The Adjustment Period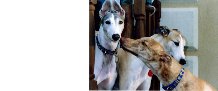 Adjusting to a new home:
Time is needed for the Greyhound to adjust to its new surroundings.  The adoptive family's willingness to work with the dog during this adjustment period is crucial.  While the dog is not a puppy, the new found freedom may cause behaviors commonly associated with puppy hood.   Structure in their lives and a lot of new owner patience is required.  This period may be several days or, in some cases, several months.  Each greyhound's needs and behaviors will be different.
Crate:
The crate is a multi-purpose training and transition tool which sets up a prepared environment for the owner and new dog.  GReAT suggests using the crate to help ease the dog's adjustment to its new home.   It gives the dog a quiet and safe place of his/her own which will be familiar.  It is the ultimate safety net for the newly-placed greyhound.  The Vari-Kennel 500: an airline type crate with a 30″ clearance is a good choice.  Plastic and wire crates can be rented or purchased from GReAT, depending on your needs or dog's preference.
Companionship:
GReAT cannot emphasize strongly enough that greyhounds have NEVER been without companionship – human or canine.  This dog breed thrives on attention.  When leaving the dog alone during the adjustment period, crate it and leave the TV or talk radio playing.
Separation  Anxiety:
Because these dogs have never been alone, some may suffer from separation anxiety.    Unfortunately being an only dog is a difficult thing to evaluate during the foster period.  Most individuals who wish to spend the time and energy fostering, already have greyhounds in their home.  GReAT will do our best to evaluate your dog prior to placement.  A crate is especially   important for a dog with separation anxiety as they may become destructive or have accidents.  Most dogs will however, overcome these difficulties with time and patience.  If your dog is stressed when you leave him/her alone, please contact your GReAT representative for suggestions to deal with this adjustment problem.
Stairs:
Most greyhounds have never seen stairs before the come to their foster home.  But   most dogs leaving foster care are able to negotiate stairs.
Chewing:
When a dog is nervous or bored, it may chew.  This is another reason the dog should be   crated or muzzled when the family cannot be there.  Use only pressed rawhide bones – not the rolled sheet, knotted bones or rope toys.  Never feed real bones.
Garbage:
Protect your greyhound from garbage to prevent problems associated with natural   greyhound curiosity about all things fragrant and/or edible.  The dog must be protected from ingesting bones, foil and plastic, being cut on sharp edges and eating spoiled food.  Please keep garbage cans in a cupboard, closet or under the sink.
Newspaper, books and paper:

| | |
| --- | --- |
| | This is a  favorite shredding/bedding material for greyhounds while on the track.  Mail is also seen as a candidate for the shredding  category.  Eating  paper can cause indigestion. |

Other pets:
Pet-to-pet bonding is a gradual process that must be carefully monitored.  Be careful during introduction. Introduce the animals apart from either dog's territory to keep the situation as neutral as possible and use the muzzle as a precaution.  Be aware that dogs, which ignore   small animals indoors, may revert to instinctive chase behavior when outside.
Muzzle:
Use the  muzzle as a training, precautionary device designed to give the owner peace of mind   and keep everyone safe during the adjustment period.  The muzzle is a valuable tool to assist in introductions and behavior modification but not as a replacement for adult human   supervision.
Elimination:
Monitor the dog to establish a schedule for relieving him or herself.  Setting a routine     mimics what the dog is used to and will help remedy any glitches in the housebreaking process.

Greyhounds are sight hounds

Exercise:
Greyhounds need the same amount of exercise as any other dog their size.  If a greyhound is to be kept in a home without a fenced yard, the owner will need to walk the dog 3 to 4 times a day for elimination purposes.  Walks are just as good as runs.  Walking and talking will strengthen the bond between dog and owner; as well as burn excess energy.  Heavy exercise should be avoided before or after eating since this could cause the dog to experience "bloat", a stomach condition which could be fatal.
Leash:
ALWAYS USE THE  LEASH. Because they are sight hounds, greyhounds have a natural chase instinct which overrides a learned command – and even invisible fencing!  When not on leash, the dog must be in a safe, enclosed area.  NEVER TIE THE DOG OUTSIDE or place him on a runner or pulley, even temporarily.  These types of restraints are dangerous for any dog.  Provide safe fencing with secure locks (a four foot fence is sufficient) or become committed to walking the dog as indicated above.
Safety Collar:
Dogs from GReAT are placed with a safety collar, matching leash and GReAT ID tag.  This     collar type is also known as a champagne or martingale collar and no greyhound should wear any other style if only a collar is used.  Some greyhound owners prefer a harness with a tag collar.  Please consult your adoption coordinator or foster family with questions regarding the best options for your greyhound..
ID Tag:
All dogs placed by GReAT have a GReAT ID tag.  Make sure the dog wears its collar and tags at all times.  In addition the new owner should acquire a personal family ID tag with their name, dog's name, family phone number, etc.   There is also a microchip ID system available which your vet can install under the dog's skin.  If the tags are lost or removed, the microchip will still identify the animal.  Statistics show lost dogs with tags are returned to their owners 85% of the time.  ID tags and/or microchips are the reason for the happy reunions.

The health of your new greyhound

Health records:
When receiving animals for adoption, the first priority of the Greyhound Rescue Adoption   Team is to provide medical attention from a qualified veterinarian.  Before placement, a dog receives all necessary vaccinations, treatments, dental care and spay/neutering.  Health, rabies, spay/neuter certificates and any available racing papers   are included in GReAT's adoption packet.  GReAT has limited knowledge of each dog's racing career, medical background and  genetics.  Therefore, we cannot make any guarantees or warrantees   regarding any future medical problems the dog may experience.  Greyhounds do not have a genetic propensity toward hip dysphasia but there   does seem to be statistical support that long legged dogs have an increased incidence of bone cancer.
Flea products:
Greyhounds cannot  wear flea collars or process some commercially available flea     preparations.  All flea products, i.e. shampoos, powders and sprays must be Pyrethrin based.  Read labels and ask your vet.  GReAT recommends Advantage/E or Frontline.
Anesthesia:
Greyhounds are sensitive to anesthesia.  Be sure that the veterinarian is familiar with the breed.  Information is provided in the placement packet and GReAT would be happy to recommend vets for consultation.
Stools:
Parasites can  be transmitted through stools.  Police your yard or walking area and pick up waste regularly.  Physical problems may be observed by checking the  stool.  If you walk your dog, restrain him/her around other dogs' droppings.  Always pick up after the dog on walks.    Sandwich bags are perfect for this task.
Worming:
Prior to placement, the greyhound will be wormed, tested for heartworm and placed on   heartworm preventative medication or treated accordingly.  After placement, consult with the veterinarian for continued protection.  Having the dog's stool checked 30 days after placement is a good idea and should be about the time that the dog is ready for a renewal of heartworm   preventative.
Tick Diseases:
Greyhounds are much more likely to get diseases like Babesia or Ehrlichia from ticks than are other breeds of companion dogs because of tick exposure at the track kennel.  Dogs placed by GReAT have already had blood work   (titer) to test for exposure to tick borne diseases.  If the titer   is high, the dog will be treated during the foster period.  If the titer is borderline, repeat the blood test at GReAT's expense one year   after placement. These diseases are not transmittable to other pets or family members.
Feeding/Diet:
Feed twice a day to avoid upset to the dog's digestive system. High quality, NO SOY,  dog food with consistent formulas are recommended.   During the adjustment period, it may be easiest to feed the dog in the crate.  When your dog is placed, mix your new food choice gradually with the food the foster home provided.  Greyhounds should not be switched directly from one food to another because their digestive systems are easily upset  When switching the dog's food, begin mixing a small amount of the new food with the current food; gradually reduce the amount of current food. Even changing flavors of food within the same brand may cause problems.
Water:
When out of the  crate, fresh water should always be available.  When the dog is crated for a long time, control water consumption prior to crating.
Housing:
Greyhounds have a low percentage of body fat which mandates they are indoor pets.    Because there is not much padding on their bodies, very soft bedding should be provided where the dog will be.  These dogs are social and like to be where you are. They should not be separated from the family.
Grooming:
Brushing the coat, trimming the nails and cleaning ears and teeth are important and should   be done routinely.  Baths are rarely necessary because of the greyhound's non-oily coat.

Integrating the newly adopted family member:

Family:
Because dogs are pack animals, a greyhound will integrate itself into its home as a member of the pack.  The entire family should be involved in the adoption and care of the dog to build the social bond and ensure that the dog understands that the humans are the bosses of the   "pack".  Everyone who will live with the dog needs be willing to assist in the care of the dog.
Children:
Any dog placed into a home with young children will have been evaluated and approved for   this lifestyle.  Always supervise the children and the dog, especially during the adjustment period.  During this time, it is important to feed the dog in its crate.  Monitor the dog's   reactions to its possessions such as food, toys, bed and crate.  NEVER let a child play in the dog's crate.  Children also should not lay or place their faces close to any dog.
 
      Resting:
LET SLEEPING DOGS LIE!  If a dog is resting, wake it up by saying its name and confirming it is awake.  Get its attention before touching the dog.  Startling a dog (or human) who is dreaming is not a good idea.

Training the newly adopted greyhound:

Discipline:
Greyhounds are known as 'soft' dogs.  Ex-racers need to be taught rules of the house.  Once understood, the dog will adhere to them.  A firm voice command usually produces sufficient control.  A collar correction may be used for a severe rules infraction.
Obedience:
Greyhounds respond well to formal Obedience and Agility training.  GReAT can help find a reputable training organization in your area known for humane training methods.

Miscellaneous:

Registration Papers:
Registration papers do not often come with the greyhound from the track.  Contact the   National Greyhound Association in Abilene, Kansas, for registration information on individual dogs.  Pedigrees or pet registration are   available for a nominal fee.  The adoption   agreement is proof of ownership.  It is the owner's responsibility to license their dog in most municipalities.
Landlord:
When a  potential adoptive family rents their home, signed permission from the landlord must be provided before GReAT can place a dog with that family.
Consultation:
GReAT is standing by to help resolve problems with or questions about adopters. Please do not let small problems become unmanageable. Do not hesitate to contact your GReAT adoption coordinator or your greyhound's foster family.
Reading materials:
GReAT recommends that new adoptive families learn more about the greyhound breed while waiting for their dog.  The following books; available at local book stores, libraries and, in the case of Carolyn Raeke's book, through GReAT, are informative and helpful:

Adopting the Retired Racing Greyhound

, by Cynthia Branigan

Adopting the Ex-Racing Greyhound

, by Carolyn Raeke (Carolyn is one      of GReAT's volunteers)

Greyhounds

,  A Barron's book by Caroline Cole

Donation:
GReAT is a 501c3 not for profit corporation.  The required adoption donation of $285 is tax deductible and non-refundable.  This sum helps covers the costs of transportation, complete physical and evaluation, all medical care, collar/lead and muzzle.  Without these donations, GReAT would not be in existence.  GReAT is completely run by volunteers.