GREYHOUND 101
Historical Hound
The Dog of the Gods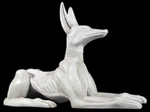 The greyhound breed or its ancestor has been with humankind throughout our recorded history. We have included them in our homes and some cultures have even worshiped them.
In Ancient Egypt, the god of the dead, Anibus looked much like a modern greyhound.
The death of a beloved greyhound was treated as importantly add significantly as that of a beloved lost human family member.  The whole family shaved their heads, openly mourned and even mummified the lost animal.
Greyhounds are the only dog breed featured in the Bible (Proverbs 30:29-31).
Greek gods and goddesses such as Hecate and Pollux were pictured with greyhounds.  In one myth the Greek goddess, Artemis, is turned into a stag and hunted by a hunter and his greyhounds.  But the gods did not want Artemis to die in that form and turned both the hunter and hounds to stone.
The Romans and ancient Celts enjoyed the sport of coursing (allowing their greyhounds to chase a live lure).  The dogs did not compete against one another, but were followed on horseback.  For both human and hound the chase was to be savored.
Ancient Arabs considered most dog breeds to be unclean and avoided contact.  But a close relative of the greyhound, Salukis, have a long history of being allowed to share their masters' tents, camels' backs and lives.
The Dog of Kings, Queens and Nobility

Because of the famine and plague, the greyhound breed nearly became extinct.  Thankfully, a group of monks and other clergy began to breed the dogs as the companion of nobility.
King Howel of Wales enacted a law that made death the punishment for killing a greyhound.
In 1014, King Canute of England established the Forest Laws, which set aside large areas of land for hunting by nobles.  Common people were forbidden to hunt with greyhounds. This was done to protect the nobilities' share of sporting game. Greyhounds were not to be used for the gathering of food.
Greyhounds were associated with knights and gentlemen.  Often depictions of a greyhound are found in a nobleman's tomb, because were used to symbolize faith and strength.  A lady's final resting place might be decorated with a little lap dog instead of a noble hound.
Both Chaucer and Shakespeare feature greyhounds in their works.
Chaucer wrote of a monk who spent royally to have fast and skilled hounds in the Canterbury Tales.
Shakespeare mentions greyhounds in several of his plays, including; Love's Labours Lost, Much Ado About,    Nothing, The Taming of the Shrew, Merry Wives of Windsor, King Henry IV, Henry V, Macbeth, Coriolanus and Timon of Athens.
Several English monarchs who kept greyhounds include Henry V, Elizabeth I and James I.
The Sporting Life

As the Renaissance ended, the Victorian era began and the Industrial Revolution instituted social equalization and the ownership of greyhounds ceased to be the sole business of nobility.  The upwardly mobile also began to enjoy the sport of coursing.  In England, this meant competition at New Market.
In 1876, an attempt to race greyhounds on a straight track was tried.  Six dogs were to chase a mechanical lure, which was seen as a more humane alternative to live lure coursing.  This valiant attempt failed and the races at the Welsh Harp, Hendon, England were abandoned.  Mechanical lure coursing was not attempted again until 1912.
In 1912, Owen Patrick Smith invented a motor driven lure and opened the first circular track in Emeryville, California.  From here, greyhound racing in America began.
This synopsis is from the Fast Friends website, "The Complete Greyhound" and several other books, articles, websites and other historical sources.