A Potential Adoptive Family Perspective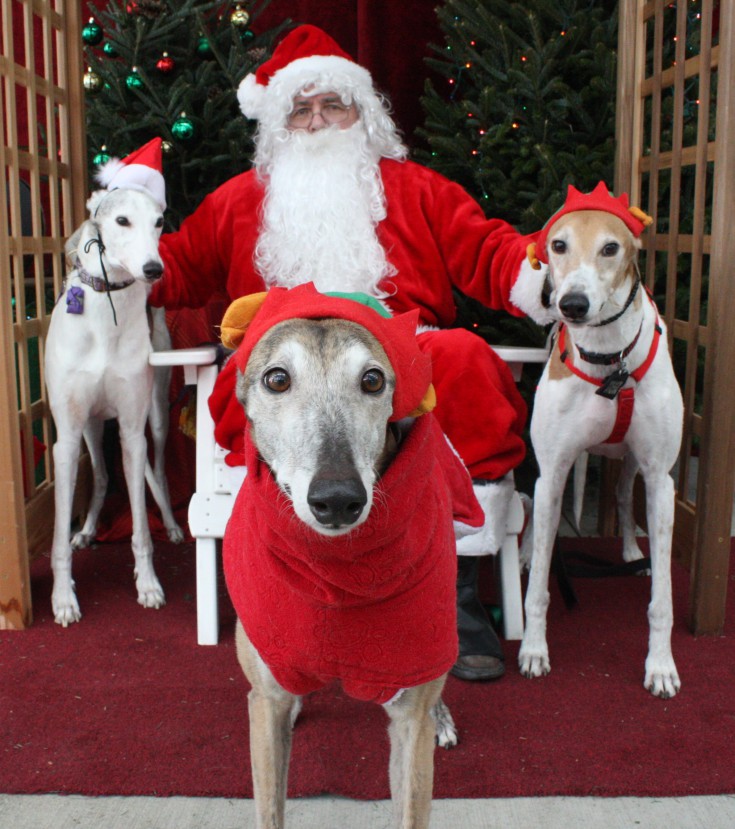 Perhaps your family is visiting a mall, a store, a Fair or other community event, and there they are-a group of people and greyhounds.  This is what GReAT calls an outreach booth.  You find yourself or your kids drawn to those long legs and sweet faces.  Someone starts telling you about the dog whose leash they are holding and, before you know it, you start petting a coat like warm velvet and staring into bottomless brown eyes.
If your heart wins and you stay a while, the representatives will answer all the questions you have about greyhounds, the racing world and living with a greyhound.Sometimes people visiting a booth will think that the dogs they are meeting are available for adoption.    Some groups may work this way, but GReAT thinks that it's better not to have  you fall in love with a dog that will chase your cats, but to have you fall in love with the dog that is the right match for you, your family and your lifestyle.  In other words, the perfect dog that GReAT finds for you.
If you are interested in thinking about adoption, you'll be given an information sheet and an adoption form.  Completing and returning the form is not a commitment to adopt, but gives GReAT a chance to follow-up with you and answer more personalized questions.
If you are interested in adopting a greyhound after the phone interview, GReAT will arrange an in-home visit.  A volunteer from GReAT will bring their dog (s) to meet with you and your family in your home.  This is an opportunity for you to see greyhounds in your home and for GReAT to get to know you and to determine what kind of personality and behavior traits a greyhound should have to be the best fit for you and your family.
Greyhounds, like humans, are individuals.  Some are more compatible with small pets like cats or small dogs.  Some are not happy or well suited to live in a home with highly active children.  On the other hand, some greyhounds love their cat and small dog companions and thrive in a home with lots of children and activities.
Another reason for a home visit is that, when potential adopters see a greyhound in their own home, some people realize that a greyhound is not the best choice for them.  The dog may just be too big for their comfort level or their young child is just afraid of a big dog in their home.  Our goal is to make a good match for both the adoptive family and retired racer.
Placement:
Once a good match for your family is found, usually in a matter of weeks, a placement appointment will be arranged.  The waiting time can be spent learning more about   integrating a new greyhound into your home and buying the needed equipment   and supplies.
Your greyhound and a volunteer from GReAT will come to your home for the placement appointment.  They will help introduce your greyhound to any small children or pets and help you with the acclimation process for your new family member.  Your placement volunteer or a member of GReAT will always be available for any ongoing support or information you may need.