A Foster Family Perspective
Track life is all a racing greyhound has ever known.  Because track life is so different from life in a home and with a family, the foster family provides a transitional and educational environment  for the racing greyhound to learn how to become a retired greyhound and family pet.
The first priority for the foster family is to housebreak the greyhound by teaching them to regard the foster home as an extension of their crate.  This is usually an easy process because greyhounds are housed in a crate at the track and normally do not eliminate in their crate.  Housebreaking is also aided by spaying or neutering and consistent training.  A regular schedule of feeding and eliminating is established.
Because everything in a home is new to a greyhound, they often have to be taught to negotiate stairs.  This can take a week to ten days before the animal is ready to climb and descend stairs independently.  They also have to be introduced to windows and sliding glass doors.They learn that furniture and the kitchen counters are "off limits".
Greyhounds have never seen food that is not intended for them, so they have to be taught that not all food is theirs.  The fact that they are so tall and their noses are counter high supports the necessity for good manners training.
When a greyhound's potential home is known before fostering begins, dogs are fostered in an environment that resembles their future home, with cats and children where appropriate.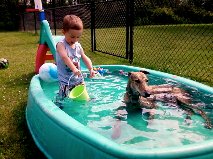 Every greyhound is different and the first two weeks are especially difficult for the dogs.  They face transport to a new city, new people, spaying or neutering procedures and a drastically different situation from track life.  Most dogs from GReAT are fostered for at least two weeks, but the amount of time a dog is fostered depends on the individual greyhound's needs.
When a match between dog and adoptive family is found, the dog is placed into its new home.  Often the foster family accompanies the dog to its new home.  At placement, the adoptive family receives the foster family's personality and behavior evaluation of their new family member.
One of Great's foster parents comments:
"I love to foster.  To me there is nothing more satisfying than seeing one of my foster dog placed with a family who has been eagerly awaiting their arrival!"